The sea and Romagna
on your plate!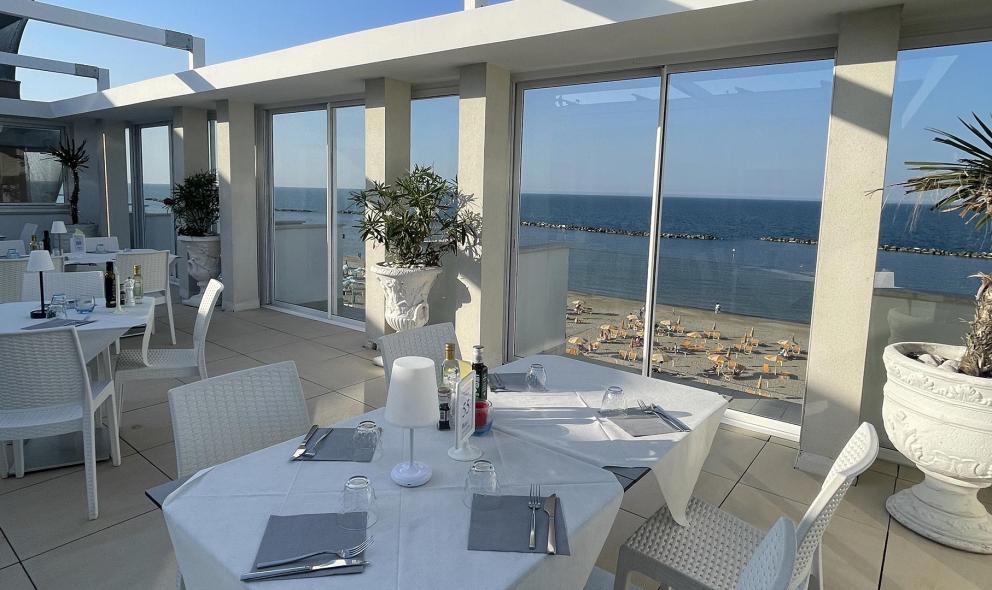 Welcome to the Wave Ristorante Pizzeria, on the Bellaria Igea Marina promenade.
In Bellaria Igea Marina, just a few steps from the beach, there is a place where the products of the sea and the land are elaborated into delicious dishes, all to be enjoyed.
This is Wave Ristorante Pizzeria, the place where you can enjoy convivial moments by the sea and taste menus prepared with passion and creativity.

Prepare your eyes and palate because here you will enjoy fish and meat dishes, created with the raw materials of our land.
Local, genuine products that are processed and used to shape dishes that satisfy sight and taste!

Location
dehors, terrace and indoor hall
All this can be experienced in the unique setting of our locations: we have a beautiful indoor hall, a dehors on the beach and a spectacular panoramic terrace.

In summer you can eat in our dehors directly on the beach, to enjoy the moment with the sea breeze on your face and make the most of the long summer evenings.
The dehors is a private place, made even more pleasant by the soft lighting that illuminates the tables.
The dehors can be reserved exclusively for private parties and events.

If you want to eat somewhere even more exciting, there is our rooftop terrace, located on the fourth floor of the White Suite & Apartments residence.
Here you can lunch and dine with an exceptional view of the sea!
Our terrace with a view is covered and sheltered from the wind: it can be the ideal setting for your event.

The indoor dining room is always available, where you can enjoy our dishes in a cosy environment, characterised by light, enveloping tones and furnishings that recall the warmth of home.

Not just a restaurant: Wave is also a pizzeria with a wood-burning oven and, in addition to classic pizzas, we make doughs with different flours and offer sophisticated and original flavours.

Accompany your meal with the right wine or beer: unfailing allies to complete a dinner and make it perfect! Our staff will be able to advise you on the right pairing for each menu, the wine chosen directly from our extensive and varied wine list.

Get ready:
here are our menus!
Why choose Wave Ristorante Pizzeria
Experiences and emotions for you
For our stellar cuisine!
For the dehors on the beach and the rooftop terrace
For organising your events
For our takeaway service